About Us
Our main objective at Buckeye Wildlife Solutions is to provide every customer with excellent, humane removal service. We specialize in wildlife control & insect extermination in Columbus, Ohio and surrounding areas. Our team of experts are certified to perform all manners of wildlife removal, damage repair, attic restoration, & pest control.
Anything you need to know can be found right here on our website. There is a dedicated page for every critter you might possibly run into. Furthermore, we offer regular, topical blog posts as well as "do-it-yourself" tips from our expert staff! Humane pest control is our mission at Buckeye Wildlife Solutions, and the service we give to our community reflects our love of people and animals alike.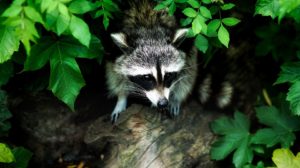 ---
Service Area By County – Franklin, Licking, Union, Delaware, Fairfield, Madison, Pickaway, Richland, Morrow, Knox & Ashland
WILDLIFE REMOVAL SERVICES
Certain wildlife can cause harmful, long-lasting problems for you and your family. Buckeye Wildlife Solutions strives to provide unparalleled, professional service in Columbus, Ohio and the surrounding areas. Our services include animal damage repair, attic restoration, & animal trapping. Wild animals we handle include raccoons, skunks, bats, squirrels, moles, rodents, birds, & groundhogs.
Buckeye Wildlife Solutions also proudly advocates biological conservation. We make an active effort to promote awareness and rectify this issue using humane, eco-friendly environmental policies.
---
PEST CONTROL SERVICES
Our team specializes in viable pest management solutions which provide sustainable and economically sound results to homeowners and their communities. We offer solutions which incorporate all of the latest, most environmentally friendly methods and techniques. Our insect and pest control services include ants, fleas, spiders, hornets, wasps, yellow jackets, & carpenter bees.
---
ATTIC RESTORATION & INSULATION SERVICES
Once critters get into your attic, it's only a matter of time before they cause mayhem and leave you in need of repairs. Buckeye Wildlife Solutions handles every aspect of attic restoration including cleanup, repair, sanitizing, and more. Our experts will handle all cleanup necessities such as waste & debris removal, sanitizing, and insulation replacement.
---
HOME EXCLUSION & PREVENTION
Just as important as removing unwanted pests is ensuring that they don't breach your home in the first place! Buckeye Wildlife Solutions offers several different methods of exclusion and prevention which work to keep critters out of your home during our busy months. These services include chimney capping, deck & shed exclusion, gap sealing, vent covering, etc.
---
Tree Trimming, BRUSH & IVY REMOVAL
Overgrown tree limbs give animals carte blanche to climb their way into your home. It is important to trim all overextended limbs until they are out of range for animals wanting to get onto your roof.
Brush and ivy can help beautify your property if used correctly but, often times, they are unwanted and act as a pest plants. Furthermore, they act as natural ladders for raccoons, rodents, insects, and other pests trying to get into your home. 
---
GUTTER CLEANING
Another common roof-related problem is clogged gutters. Leaves and other debris will jam and stop the flow through your gutters, leading to unwanted buildup and improper water distribution.
Clogging can lead to rotted fascia and soffits – leaving pathways for pests to climb up into your attic. Gutter guards are an excellent option for maintaining healthy flow (and we'll install them!).
Wildlife Removal & Pest Control Services In Columbus, OH & Surrounding Areas
Professional Certifications
Angies List – Super Service Award
NWCOA Members
NWCP Bat Standards Compliant
Ohio State Trappers Association (OSTA)
Licensed, Bonded and Insured

CITIES WE SERVICE FOR WILDLIFE REMOVAL & PEST CONTROL
COLUMBUS, DUBLIN, POWELL, HILLIARD, LEWIS CENTER, UPPER ARLINTON, DELAWARE, MARYSVILLE, WORTHINGTON, WESTERVILLE, BEXLEY, PICKERINGTON, PATASKALA, GALENA, SUNBURY, NEW ALBANY, BLACKLICK, CLINTONVILLE, GRANVILLE, CANAL WINCHESTER, GROVE CITY, GALLOWAY, OBETZ, JOHNSTOWN, WHITEHALL, GRANDVIEW, Lexington, Ontario, Mansfied, Ashland, Wooster, Fredericktown, Mt. Vernon, Howard, Apple Valley, Butler & Bellville OH
Main Wildlife Species We Control Around Columbus, Ohio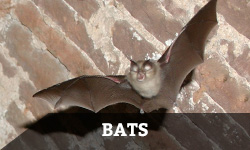 Bats are fascinating (although pesky) creatures which are an integral part of our environment. The biggest issue in human-bat relations is the battle over where they are allowed to reside. In the event of an invasion, Buckeye Wildlife Solutions uses humane means of exclusion which solve all bat problems without causing the bats any harm. Once the process is complete, the bats will fly away and seek shelter in the wild. Afterwards, we will proceed with the 
Attic Restoration Services
, cleaning up all bat guano and working to erase any signs that there was ever an issue to begin with. Attic cleanup is an essential part of the removal, as it eliminates any concerns over the harmful diseases which can be found in bat waste. Furthermore, BWS will install new insulation and sanitize the area to remove any stingy bacteria that remain. Bat exclusion is a dangerous job for an untrained hand and should be left to certified professionals like those at Buckeye Wildlife Solutions. As 
Columbus's Leading Bat Removal
experts, we are the clear-cut choice for the job. We possess the knowledge, experience, and equipment fix your problem completely and without incident.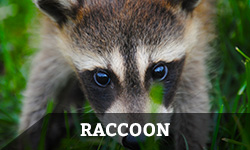 Raccoon problems must be addressed hastily to avoid damages from piling up. They are by far the most destructive pests you might encounter. If left alone, even for a week, raccoons can leave your attic in shambles. Not only do raccoons tear large holes in your roofline, they also spread dangerous amounts of urine and fecal matter. They
 tend to strike during the springtime when the females give birth.
Buckeye Wildlife Solutions can solve your raccoon problem quickly, permanently, and humanely using all of the latest abatement strategies. Here are the three main signs of a raccoon infestation:
1. Loud thumping during the nighttime (raccoons are nocturnal)
2. Chattering noises (newborn raccoons)
3. Muddy paw prints on corners of home or on gutter spouts.
Any one of these signs may indicate an infestation in your home. During inspection, a Buckeye Wildlife Solutions expert will educate you about the process and time frame of a raccoon removal project. Our goal is to inform you in order to allow you to help us cater to your specific needs. If you suspect a raccoon problem, call Buckeye Wildlife Solutions – Columbus's Leading Raccoon Removal experts for excellent, timely service.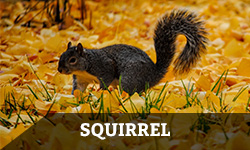 Squirrels manage to infest attics by chewing around dormers, gable ends, and vents. When squirrels are in your attic they cause damage by chewing on wires, bringing in nesting material, and burrowing through insulation. Exterior damage is often quite serious if squirrels have been present for a long time. The longer squirrels are allowed to remain in your attic, the more damage they will cause. 
We resolve squirrel problems in a timely manner so that your home may return to a peaceful state.
Buckeye Wildlife Solutions carries specialized traps designed to capture squirrels with incredible efficiency. Each machine is capable of snagging 3+ squirrels at a time. During the trapping process, we install our devices over the main entry point(s). It is not uncommon for squirrels to have more than one entry point, which makes the Damage Repair process even more important. Once the squirrels are removed, you can count on us to restore your home and leave it as clean and safe as it was before. For more information, call Columbus's Leading Squirrel Control experts at Buckeye Wildlife Solutions or fill out the "Get a Quote" form below!
**Buckeye Wildlife Solutions holds all proper insurance including Workers' Compensation.

OTHER WILDLIFE & INSECT PESTS WE HANDLE –
SKUNKS, MOLES, BIRDS, GROUNDHOGS, MICE, RATS, SHREWS, VOLES, WOODPECKERS, GEESE, MUSKRATS, COYOTES, OPOSSUMS, CHIPMUNKS, SNAKES, DEAD ANIMALS, SPIDERS, ANTS, FLEAS, TERMITES, FLIES, MITES, TICKS, MOSQUITOS, YELLOW JACKETS, HORNETS, CARPENTER BEES, MILLIPEDES, GNATS, BEETLES, COCKROACHES, MOTHS, SILVERFISH, & OTHERS.
43017, 43016, 43040, 43015, 43065, 43026, 43123, 43035, 43064, 43209, 43221, 43081, 43082, 43085, 43086, 43011, 43041, 43044, 43045, 43060, 43061, 43062, 43066, 43067, 43069, 43074, 43081, 43102, 43204, 43229, 43270, 43236, 43205, 43202, 43210, 43231, 43219, 43214, 43222

If You Notice ANY Of These Signs, Call BWS Now!
NOISES COMING FROM ATTIC | DAMAGE TO EXTERIOR OF HOME | LAWN DAMAGE / TUNNELING | YELLOW STAINS ON CEILING | SAWDUST IN LIVING QUARTERS | FOUL ODORS IN HOME | DROPPINGS IN HOME OR ATTIC
---
PEST CONTROL SERVICES
Our team specializes in viable pest management solutions which provide sustainable and economically sound results to homeowners and their communities. We offer solutions which incorporate all of the latest, most environmentally friendly methods and techniques. Our insect and pest control services include ants, fleas, spiders, hornets, wasps, yellow jackets, & carpenter bees.

IF YOU'RE HAVING PEST ISSUES CLICK HERE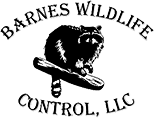 BWS Affiliate – Barnes Wildlife Control