What Is A Professional Grade Chimney Cap?
Buckeye Wildlife Solutions provides chimney caps that are defensive and protective metal covers. They go over the top of a tile that sits on the chimney crown, which is on top of the chimney. Our capping system is made up of two parts. The first part is a stainless steel mesh that comes in various designs to fit with the aesthetics of your home or building. On top of the stainless steel mesh sits the second part, a cap that protects your chimney from rain, downdrafts, and wildlife attempting to access your chimney.
The role of a chimney cap is to protect the chimney from water, snow, and wild animals like birds, raccoons, and bats. A quality chimney cap keeps a chimney unclogged so heat and unhealthy elements like carbon monoxide can properly get vented. Also, your chimney will last the test of time when properly capped, which our Buckeye Wildlife Solutions chimney capping team does every time, guaranteed!
Get The Best Materials For Your Chimney Cap
Many people have to watch their checkbooks, and we understand that. Attempting to save money, people will ask us, "What's the cheapest material to use when installing a chimney cap?" The answer to that question is a galvanized chimney cap, but we install stainless steel caps. Galvanized caps won't work with gas logs, and rust and increase the probability of chimney and siding damage. We use single flue caps and custom crown mount caps made from stainless steel, which are aesthetically pleasing, require less care and come with a limited lifetime warranty.
Chimney caps are an essential tool for preserving your chimney and your home. Before starting your CC installation, we'll get the correct size and discuss the cap style that best fits your look. Chimney capping should be a part of your property upkeep! If you'd like to get your chimney properly capped, contact Buckeye Wildlife Solutions Chimney Cap Service at (866) 896-8030 or (844) 544-7378.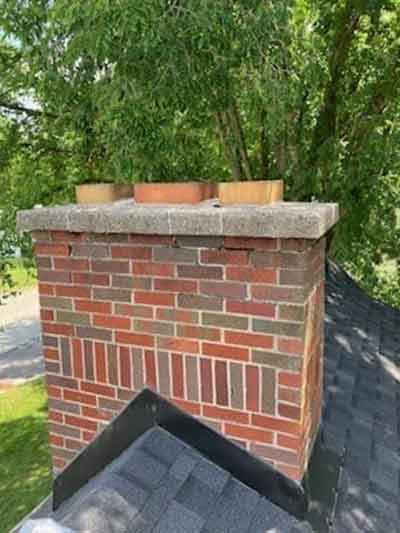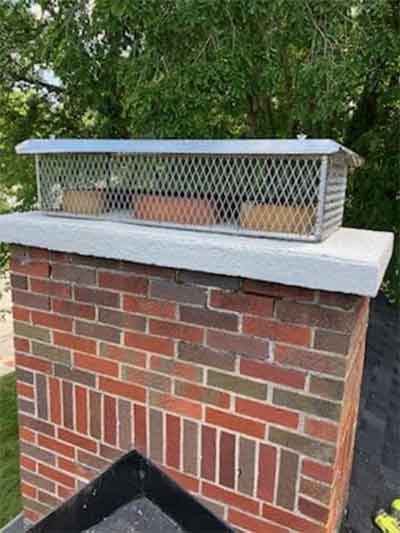 An Example Of Our Work
A Well Constructed, Properly Sealed Crown With A Stainless Steel Mesh And Cap. Our Work Is 100% Guaranteed!
Chimney Crown Repair – The Foundation Of A Chimney Cap
A chimney's crown safeguards your chimney from water damage entering through small gaps and cracks. Most of the chimneys we deal with are improperly crowned, often resulting in chimney damage, given the colder temperatures in Ohio's winter months.
Water seeps into the bricks and mortar when a chimney has a poorly constructed crown. When freezing temperatures hit Ohio, this water seepage constantly freezes and thaws, creating cracks in the mortar and impacting the chimney's integrity.
A well-built crown has an angle to protect the chimney from water damage and forces water to run away and off the crown. Buckeye Wildlife Solutions uses Chimney RX Brushable Crown Repair, which forms a flexible water membrane that repairs and protects chimney crowns from water entering the crown.
You Need A Properly Built Chimney Crown As Displayed In Our Work Below!