Buckeye Wildlife Solutions is the #1 most trusted name in commercial bird removal for central and northwest Ohio. Our offices in Columbus, Dayton, and Toledo can handle your bird-related needs 24//7! We offer first-rate commercial bird control service to companies all across central and northwest Ohio. Quality and customer satisfaction are our primary concerns. We work with each individual customer to design highly effective, custom bird removal or prevention solution for specific situations. Call our Columbus office today at (844) 544-9453 to start the bird removal process today!
Without question, we are Ohio's most experienced commercial bird control experts. When it comes to preventing and removing birds from your building or property, nobody performs at the level of BWS. Our highly trained, experienced, and friendly staff has access to the latest bird control products, and our continued dedication to the developments of this trade allows us to stay well ahead of the competition. Call our office today at (844) 544-9453 to get rid of birds!
Birds are some of the most difficult pests to get rid of. They're crafty and agile and will leave a huge mess (including property damage) if left unattended. Furthermore, they're bound to stay as long as you're willing to put up with them. Therefore, getting rid of birds as soon as possible is important to prevent damage and waste buildup. Removing birds from a commercial property or building takes skill, vision, and creativity. We will use any combination of spikes, netting, audio/visual deterrents, and more to solve your bird problems.
BWS as well as our sister company, Ohio Bird Control, has over 20 years of experience handling both residential and commercial bird removal needs in the state of Ohio. There is simply no job too big or too difficult for our team to handle at a high level. Call (844) 544-9453 to get rid of birds on your commercial property!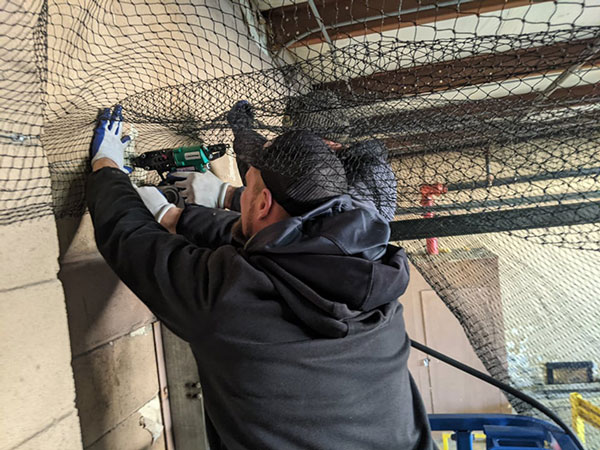 Installing bird netting is just one way to keep birds away from your property.