Wildlife & Pests
Buckeye Wildlife Solutions provides services which range from pest protection to rodent and large animal removal. Each service is customized to your individual situation, as no two jobs are alike in the pest removal business. We take pride in our staff's ability to solve all issues soundly and effectively. Below are some of the more common pests we handle:
General Services
Aside from pest management, we offer many helpful services, including infrastructure repair, pest prevention (including installation), clean-up, and much more. Below is a full list of our comprehensive services:
Lower perimeter sealing for insects and rodents
Nesting material removal
Bird barrier netting
Securing decks and patios with deck screening
Dead animal removal
_______________________________________________________________________________________________
Give us a call at (844) 544-9453 for more information!
_______________________________________________________________________________________________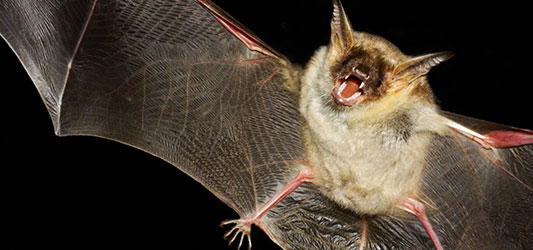 Trapping
Depending on the particular pest, removal can be executed in several ways. Trapping is generally the most effective method of removal. Before the process is underway, our specialist will inform you about everything that occurs during the typical trapping job. We will, first, get an idea of the layout for the relevant area to form an effective strategy. The process is safe, involves no confrontation, and does not take long. Once the animal(s) are trapped, we will remove them from your property to be relocated. Once this happens, the animal(s) will not be able to return. Do not worry about any pests finding their way "home," as all nests and their remnants will be destroyed and removed from your property.
Bat Exclusion
One-way devices are placed over the bats main points of entry. The entire structure will be properly sealed to ensure the bats cannot find another way into your home or attic. Bats can enter a gap no larger than 3/4 inch, making the sealing process all the more important. Once all bats have been excluded via the one-way device, cleanup, and further repair work can be done as necessary.
Attic Restoration
Attic restoration may be necessary after an invading bat colony has been successfully excluded from your home or attic. The goals of this service are to remove all materials & biomass, sanitize the area and make repairs where needed. Oftentimes, bats leave large piles of waste behind, posing threats to anyone in the vicinity. All cleanup work is done with proper safety equipment. If vents, walls, or insulation needs to be replaced or covered, attic restoration is the proper service for your situation.
Pest Prevention
If you are diligent in keeping pests from gaining access to your property, you will have far less to worry about during our busy seasons. There are several options for keeping unwanted animals off of your property. Fencing may be a good option for animals like groundhogs, rodents, and other land-based creatures. Trench exclusion is possible if you need to protect certain structures, such as the deck or shed, from pest activity. If you find certain areas of your house susceptible to pests, we can seal chimneys, vents, or anything else – even if it takes custom metalwork!