The aim of a crawl space restoration is to return a wet, musty crawl space back into its clean, dry, original state. We have a long history of crawl space restoration. A clean foundation is an asset to anyone's home but, more often than not, neglect can lead it to become a liability. Each member of our crawl space restoration team has years of experience working on crawl spaces just like yours. We're capable of designing the perfect solution for your specific cleanup and restoration need. Call the Buckeye Wildlife Solutions Crawl Space Restoration Team today at (844) 544-9453 to get started!
Each crawl space has its own challenges and idiosyncracies. Therefore, it's impossible to trust an estimate given over the phone without a proper site visit and inspection. When hired, one of our trained professionals will survey your crawl space and outline a customized plan based on their findings. We use the most trusted crawl space products on the market and techniques which have stood the test of time. We're confident in our ability to provide next level crawl space restoration to residents and commercial clients alike. Call Buckeye Wildlife Solutions today at (844) 544-9453 to restore your crawl space!
What Happens Before We Begin
Prior to starting the crawl space restoration, we ensure that there are no animals currently residing in the area. It is common for damp, musty crawl spaces to house insects, rodents, and even larger animals such as raccoons. If there are any animals present, we will safely remove them as well as any traces of their nests. When the area is confirmed to be clear, we will begin the cleanup process.
The Cleanup Process
First, we will remove all waste, debris, and other materials from the area. Additionally, we will get rid of any standing water. Doing this protects everyone involved from bacteria and physical hazards. Also, it clears the path for us to perform any proceeding tasks.
Once the area is completely unobstructed, we can begin the sanitization process. We ensure that every square inch of your crawl space is sanitized in order that harmful bacteria are eradicated and unwanted odors eliminated for good. We use the highest grade cleaning products and equipment to make sure that your crawl space is completely spotless.
Adding a Vapor Barrier and Insulation
Air leakage is a primary concern for those with crawl spaces. This is especially true in places like Columbus, where the climate can take quick, violent turns. Air leakage not only makes your living space uncomfortable, but it can also cost you hundreds of dollars on your monthly heating and cooling bill. Vapor barriers and insulation slow moisture from evaporating and transferring into other areas of your home, thereby keeping the climate in your living quarters comfortable and predictable. To get the crawl space restoration process started, call Buckeye Wildlife Solutions now at (844) 544-9453!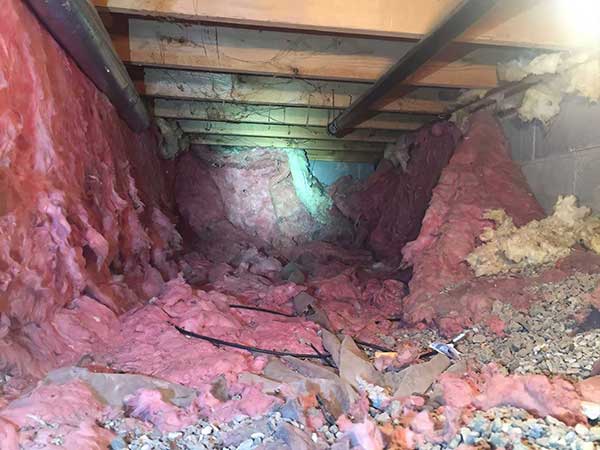 This crawl space was in need of serious repair. A perfect job for BWS. See the after photo below!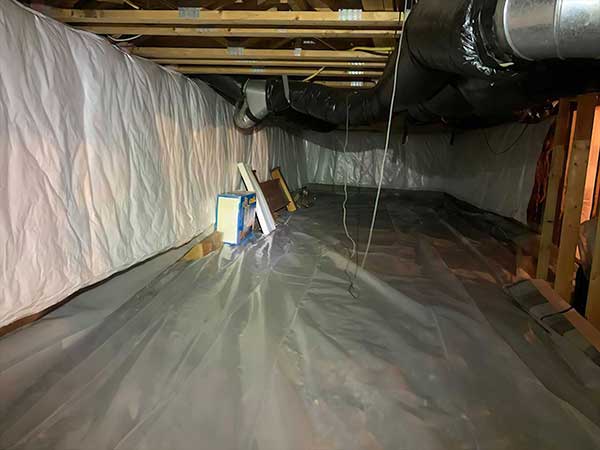 As you can see the transformation of this crawlspace is impressive!