Remove Bats from Your House | Columbus, OH Bat Removal Company
CALL: (844) 544-9453
Bat activity remains high in the waning weeks of summer in Columbus, Ohio. Bat colonies will continue to wreak havoc on the properties of Columbus business and homeowners. Although bats are an important part of our ecosystem, they are a nuisance to the people of Central Ohio. Below is a list of the types of problems that bat colonies can cause on your property:
Gather in large numbers in areas with little human activity such as sheds, barns, attics, etc.
Leave behind guano (bat feces) that can fester and be hazardous by harbouring diseases such as histoplasmosis
Bats could potentially enter your home and be an immediate threat to you and your family.
Buckeye Wildlife Solutions is Columbus, Ohio's most trusted bat removal service. Upon arrival, a trained removal expert will survey the property and assess any damage done to your property. Then, we will design a custom bat excavation plan catered to your specific needs. Buckeye Wildlife Solutions is also fully capable of handling any repair work you may need doing. Because of our knowledge and experience, we are Columbus's top bat removal company. For the best animal removal service in Columbus, Ohio, call Buckeye Wildlife Solutions today at (844) 544-9453!
How and Why do Bats Invade My Property?
Bats on people's property are usually looking for shelter. There are several things they need to be able to live comfortably. These include a liveable temperature with access to enough light and humidity to sustain themselves. Bats can fit into very tight spaces (less than one-quarter inch in diameter). Because of this, they have easy access to sheds, decks, and even the inside of your home in some cases. Furthermore, they can go long periods without being detected by humans even if they are inside your home. Bats are generally not too noisy and prefer to live in areas you don't frequently visit (such as the attic).
If you do suspect a bat invasion, please contact Buckeye Wildlife Solutions immediately. Getting rid of bats is a job that should only be left to those with the proper knowledge and experience. Although not usually deadly, bats can harbour diseases like histoplasmosis that can be very dangerous to you and your family. Buckeye Wildlife Solutions is Columbus, OH's best bat removal company. Call us today at (844) 544-9453 for expert bat removal service!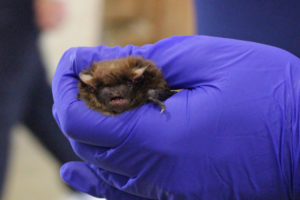 Why Do I Need a Bat Removal Company?
Bats are very dangerous and difficult to remove on one's own. Not only must you take proper safety precautions, but you cannot legally harm many species of bats. Some of the most common bat species in Ohio are protected by federal law from being harmed, poisoned, killed, etc. Therefore, the only solution is often to create one-way exits and ensure that they are unable to return to their hiding spots.
The Buckeye Wildlife Solutions staff is fully trained and licensed to handle all bat removal jobs. We use only the latest, most advanced methods and technology to keep your home and property free of invading animals. Our team will handle your bat issues with the proper care and technique to prevent bats from returning and invading your living space. For Columbus's #1 bat removal service, call Buckeye Wildlife Solutions at (844) 544-9453!