Central Ohio – Histoplasmosis in Bat Guano
Bats are notorious for carrying disease– especially in their waste. Bat guano can carry dozens of different diseases which pose threats to humans. One of the most notable diseases is histoplasmosis.
What Is Histoplasmosis?
Histoplasmosis is a fungus which affects the respiratory system, which is responsible for our capacity to breathe. The fungus produces very small micro spores which, when breathed in, is known to cause lung infections. Furthermore, histoplasmosis can become more severe the longer it goes untreated. If left to grow, the fungus can spread to other areas, potentially affecting the spleen, liver, and other vital organs. The disease can have long-lasting effects, with scarring on the lungs paving the way for permanent breathing and blood vessel issues.
How Do Humans Encounter and Contract Histoplasmosis?
Histoplasmosis is breathed in through micro spores, meaning the fungus must have a place to thrive and produce the spores. Often times, the disease can be found in bat guano, with larger piles having a higher chance of spreading the disease. Those with weakened immune systems such as children, the elderly, and people with other illnesses are more susceptible to infection. People with other lung diseases like bronchitis and emphysema are especially at risk being that their lungs are already weakened. 
What Should I Do to Prevent This Disease?
The key to quelling your bat-related fears is simply to put an end to the cause. A well-trained bat removal service will quickly identify the best way to handle your bat issue and have it taken care of in a timely fashion. It is important to note that bats are capable of finding nearly undetectable entrances into your home and attic. Openings as small as 3/8″ wide can be used by entire colonies of bats for gaining entry.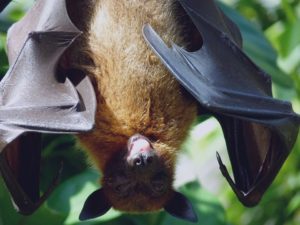 The attic is a very dangerous place for bat guano to accumulate. Often times, attics go unobserved for long periods of time, giving bats a fantastic opportunity for breeding and shelter. The environment within the attic space is usually ideal for fungal growth, making it all the more important to address the issue immediately. Other than disease, bat guano buildup has the ability to corrode materials within the structure of the attic. Extraction is the only effective, humane option for ridding yourself of risk for disease and further property damage. Give Columbus's #1 animal control company, Buckeye Wildlife Solutions, a call at (844) 544-9453 for expert bat removal service!